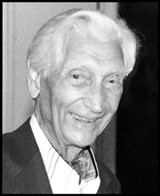 The Anatomical Society mourns the loss of its Waldeyer Awardy and long-time member Professor Dr. med. Dr. h. c. Johannes Wilhelm Rohen (*18.09.1921 in Oldenburg - †26.05.2022 in Neunkirchen am Brand), Institute of Anatomy, LS1, Krankenhausstr. 9, 91054 Erlangen.
Prof. Rohen headed Chair 1 of the Erlangen Institute from 1974 to 1991. His teaching was characterised by his functional view of the structures of the human organism, in which generations of medical and dental students in Erlangen were able to participate. Scientifically, he developed fundamental new insights into the structure of the larynx and the functional morphology of the eye and enjoyed international recognition for this. He was significantly involved in the development of the first glaucoma operations. As emeritus professor, he was always closely connected to the Institute and was scientifically active until his 90th birthday.
The anatomists working with him in Erlangen remember the time with him with great gratitude and will cherish and continue to live his personality as well as his joy and passion for the people in the Institute and for science.
The Anatomical Society will honour his memory.